When a work truck driver faces an emergency event on the road, it's important to be a part of a network that meets the driver and performs any roadside maintenance or provides a tow to the nearest maintenance facility as quickly as possible. Fleet managers know that time is money, and having a fleet vehicle and driver sitting on the side of the road costs in lost jobs.
TOWING & ROADSIDE
The last two years have been a roller coaster for the tow industry. Traffic on US roads fell 39% in April 2020 over pre-pandemic levels in April 2019 and were still down 10.3% in December 2020 over the same period in 2019, according to the US Federal Highway Commission. 
That tremendous drop in traffic led to a sharp reduction in business for the tow industry, which forced many roadside assistance businesses to cut staff and even sell off equipment. But just a year later in December 2021, traffic was up nearly 2% over pre-pandemic levels. 
Not surprisingly, a recent HONK survey showed that tow providers find it difficult to hire enough people to keep up with work, and more than one in five (22%) are having to turn away work. Simply put, there's more tow and roadside assistance work that needs to be done than there is capacity to do it all, especially in a timely manner. Tow providers are having to make choices about what work they take and, of that work, what they do first.
This isn't just theorizing based on anecdotal evidence. That same survey found that nearly three-quarters (73%) of tow providers are now prioritizing work. And while one might expect that their top priority would be to complete the most lucrative jobs or contractual obligations first, these were not their top choice. When tow providers were asked how they prioritize work, their top response was that they do the closest jobs first.
By taking closer jobs, providers' trucks can assist more motorists and fleets and spend less time driving back and forth. This increases efficiency, enabling a single truck to do more jobs in a day, which ultimately should result in more revenue than even prioritizing the most lucrative jobs. 
TERRITORY MODEL
Despite tow providers' emphasis on taking closer jobs first, most auto clubs and roadside assistance networks assign jobs based on a territory model where the tow provider is given exclusive access to serve motorists and fleets in their network within a specific geographic region. This isn't a bad deal for tow providers. It virtually guarantees a steady stream of business, which provides significant stability, and that's especially important when the economy sours and work volume dips. 
Territory models also have historically longer wait times for fleets and motorists on the side of the road who are in need of service, as most territories cover a large area which results in high truck inefficiencies. Having a large region to oneself can certainly bring in a lot of business, but it also means that a truck may have to drive a significant distance to get to the stranded motorist or fleet driver. That extra time on the road doesn't make any money for the towing company—or the work truck fleet whose vehicle and driver are stranded on the side of the road. Further, given how fuel prices have risen over the past few months, the extra time tow trucks spend traveling to and from fairly distant jobs can seriously increase expenses. Taking extra time to arrive on-scene also impacts the customer experience, as no fleet or motorist wants to be kept waiting.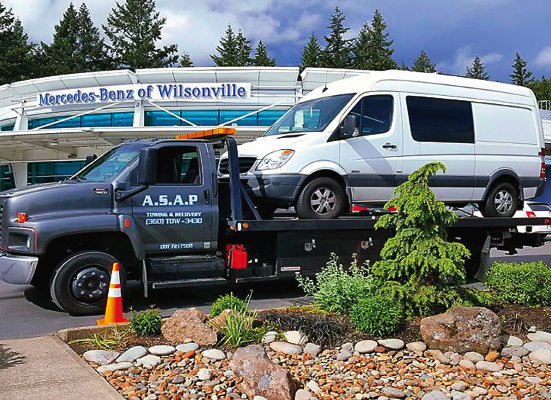 LOCATION MODEL
Modern smartphones, GPS-based services, and artificial intelligence (AI) have made it possible to create location-based dispatch models. In this arrangement, the towing and roadside network doesn't give a provider all business within a certain region, but instead identifies the location of all qualified, vetted tow providers near the job and offers it to the one that can get there in the shortest amount of time. 
The tow provider is under no obligation to take the job, and if they turn it down, the network goes to the next-closest provider until it is accepted. For tow providers, this arrangement has a number of advantages. First, it can provide a stream of jobs that require a small amount of travel time, enabling the tow company to operate more efficiently and complete more work per truck each day. And because there's no obligation, if they are occupied with another job or obligated to take a job due to contractual requirements, they can decline and keep an eye out for the next opportunity. 
For fleets and motorists, the advantages are also clear. They get back on the road quickly and spend less time stranded on the side of the road, waiting for a tow provider to arrive.
A PERFECT COMPLEMENT
While the two models are very different, they're not in conflict. In fact, they can definitely complement each other to provide a stable, efficient revenue stream for tow providers. Contracting with a territory-based network can create a foundation of steady work that may ebb and flow as the economy and traffic volume changes but will always be there for the tow company. And simultaneously working with a no-obligation, location-based network will provide nearby jobs that trucks can finish quickly, improving the efficiency of the entire company, increasing overall revenue and profit margin.
For fleets, being part of a towing and roadside network that uses both a territory and location model can help ensure fleet drivers spend less time stranded on the side of the road and more time being productive behind the wheel.
---
ABOUT THE AUTHOR
Rochelle Thielen is chief revenue officer for HONK Technologies. She previously served as CEO of Estify and in leadership roles on the APD teams within Mitchell International and Solera. Find out more, visit www.honk4help.com.